The Pandemic Christmas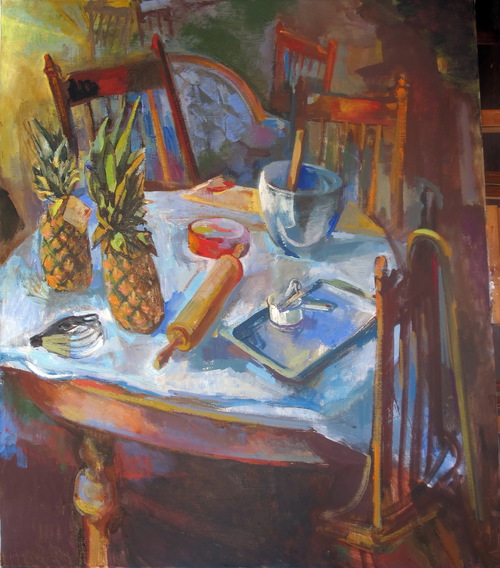 It takes me about a year to decide whether a painting is finished, and to determine if it is something I want to exhibit. Now I am looking critically at my Christmas Pandemic Paintings from last year.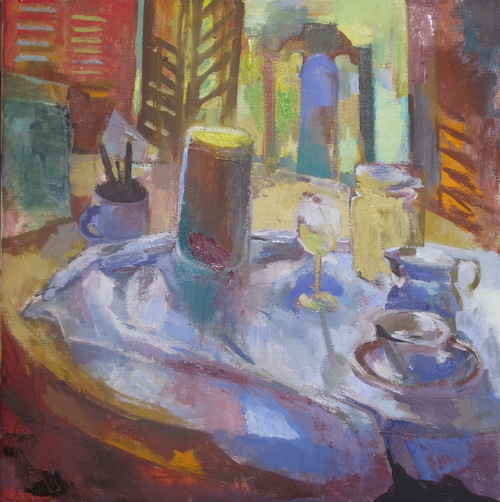 Last winter, a little before Christmas, with lockdown in full force, I decided to move my studio downstairs. I was having difficulty with the stairs and downstairs is warmer. Shutting off upstairs would save heat. My family helped roll up the rugs, move painting tables and easels, and we set up the studio in the kitchen and dining room. The Pandemic meant no visitors would come. I could let the house and studio turn into as big a mess as I wanted.
I tend to like accidental still lives, and one was already "setup" on the dining room table.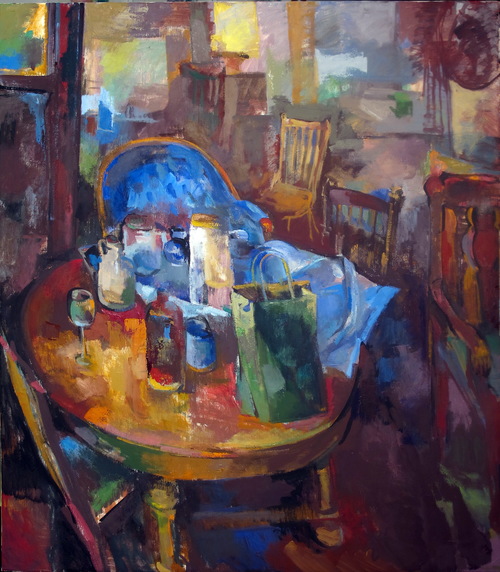 Eager to get to work, I stretched a group of large canvases.
I used the dining room table for a setup. I did not think about the chairs. At first, I just shoved them out of the way. My oldest son was leaving groceries on the porch. It was lonely, but I was getting a lot done.
I realized after working awhile, that all the chairs were empty, and I felt lonely because in a normal Holiday season, they would be full. I felt sad and I realized I was making a "pandemic" painting.
Later my son noticing the Clorox wipes in the painting, said, "we'll always know when this was made."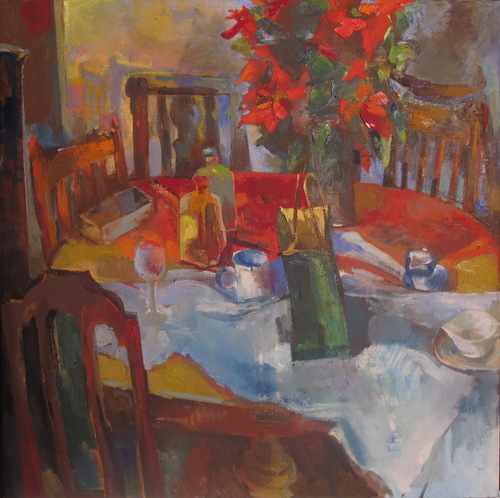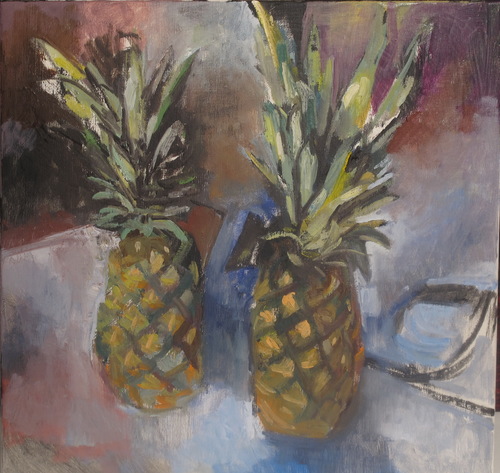 After he began to work from home, he thought it safe to come inside. One day he brought two pineapples. Another day, a poinsettia. Christmas music was playing. He looked at the largest painting and said, this is a pandemic painting, all the chairs are empty. "Yes," I said, "all the chairs are empty, and that will be our Christmas this year."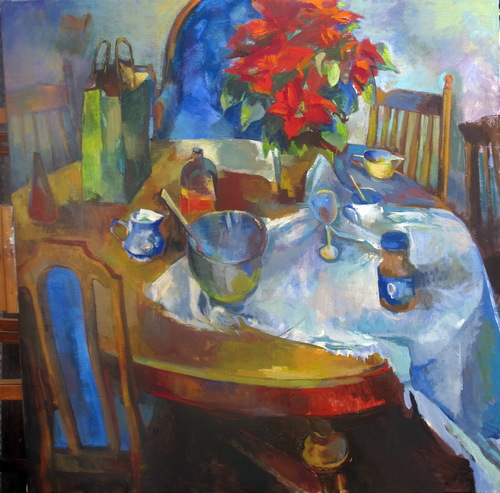 I added some of the utensils for making Christmas Cookies to the table. My children's favorite Christmas cookies are Pineapple Diamonds.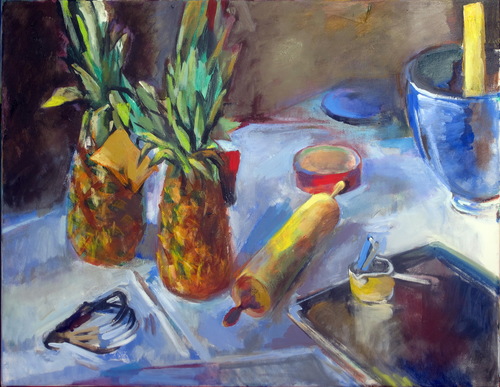 Next came the pastry blender and the rolling pin. A rolling pin is taperred at the ends and devilish to foreshorten, but it, along with the pan and the tablecloth establish the ground plane.
Would you like to have a Christmas card with an image and the recipe? Use contact to message me, please..


---
North to Alaska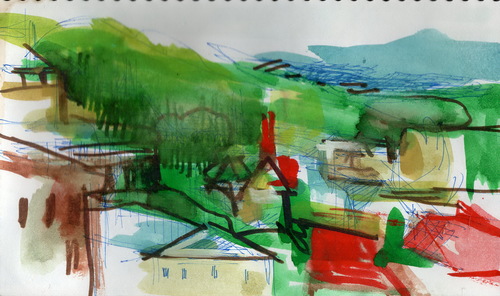 Taking a cruise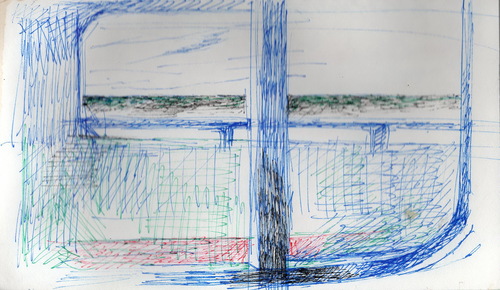 This is a form of travel which I once disparaged. I was willing to go anywhere and try everything, walking, hauling, hanging onto children, going a long way out of the way to save a little. Those days are gone. Now that I can't walk so well, there are ways to make it easier. I can ask for a wheelchair in an airport, I can do much more preplanning, and I can take a cruise. Cruises get me to interesting places, give me a place to stay or rest, and don't require handling luggage. If you shop a bit, you can find offers that even make this affordable, and a bit of luxury is nice.

This amazing year, I have been to both the Artic and the Antartic! My daughter Bridget and my sons Edward and John accompaned me a trip to Alaska this August.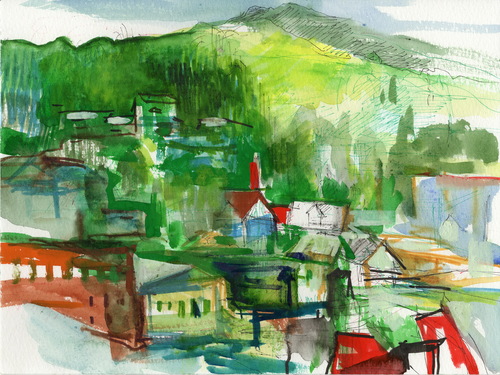 Ketchikan, watercolor and charcoal

Bridget and Edward are Anthropologists, and we spent time looking at work by the original inhabitants of Alaska. Very amazing are the Tlingits, a seafaring people, skilled fishers, traders and hunters-gatherers, who are located in southern Alaska, in the temperate rainforest between the Pacific ocean and Canadian mountains. Unlike tribes farther north, the Tlingats had abundant fish, hunting and gathering and didn't need a word for starvation. They were able to develop wonderful weavings and carvings, used in ritual dances which depicted tales like their origination story; Raven stealing the sun from a wealthy man who kept it hiden, and bringing it to the people. These dances, which were done in clan houses, painted on the outside, and lit by a central fire inside, must have been very magical.

The Tlingit, along with other costal tribes erected totem poles to commemorate births, deaths and other important events. Originally carved with stone tools until the arrival of Europeans who brought metal tools, the poles were left until they fell.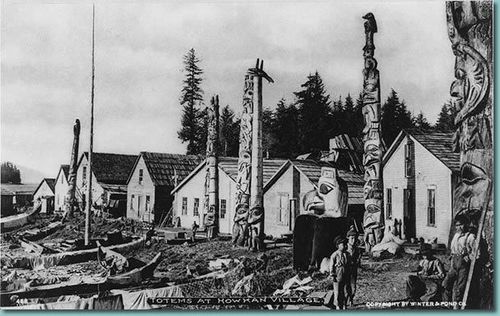 Historical Villages with Poles



Elaborate poles were (and still are) carved to commenorate special ocassions


Formline Design
The patterns chosen for weavings and carvings are very purposeful, depicting highly stylized and geometric patterns of native animals. The central designs of Tlingit blankets are created from formlines, a rigid framework of designs with a longstanding legacy of usage by Northwest Coast groups. Specific blankets also tend to draw upon designs related to family histories. This design is perhaps the most common Tlingit blanket design: the diving whale.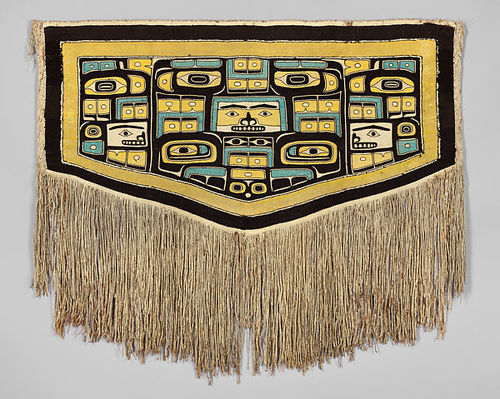 Juneau, Alaska's capitol, allows trips to glaciers, and a ride on the Mt. Roberts Tramway.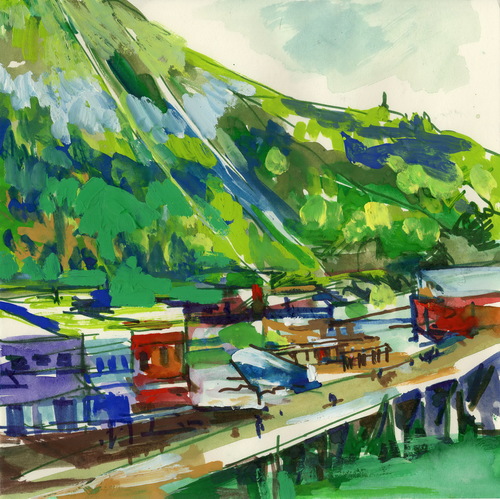 Icy Point Straight has a Cannery Museum.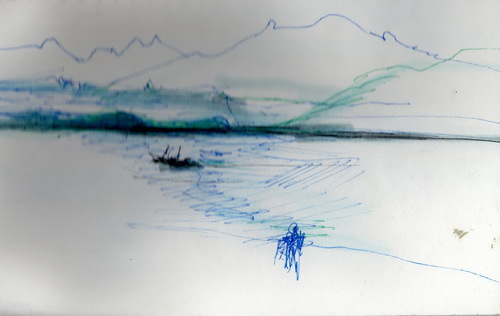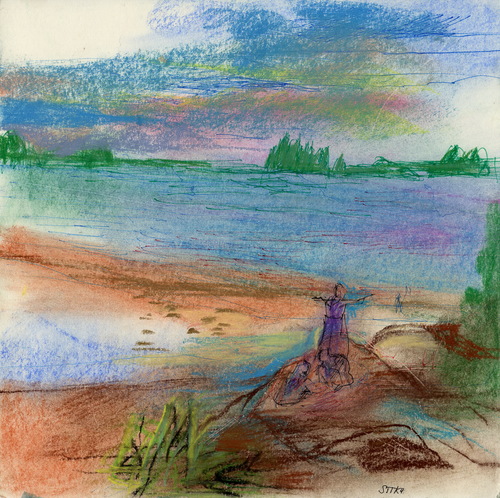 Sitka, pastel

I drew Fjords, Straights and Glaciers from the deck of the ship.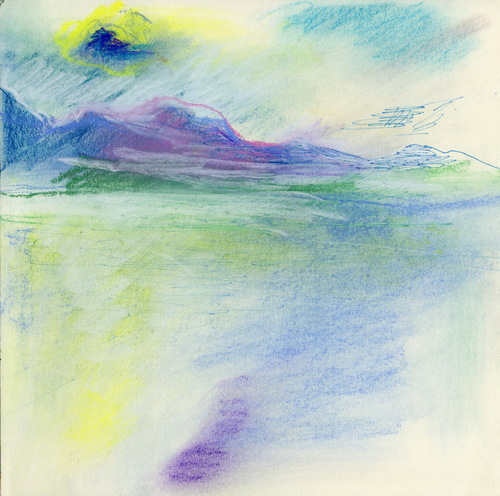 Gulf of Alaska, watercolor and pastel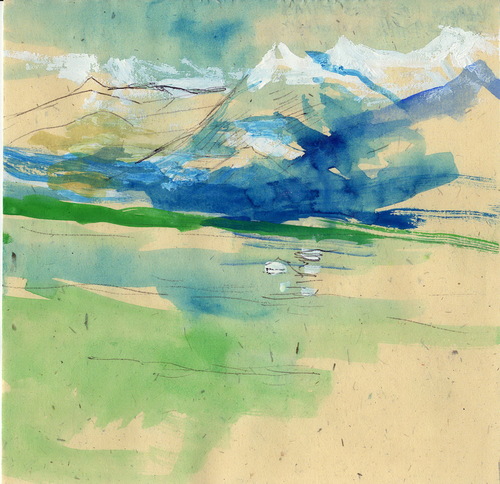 St. Elias Mountain, watercolor, charcoal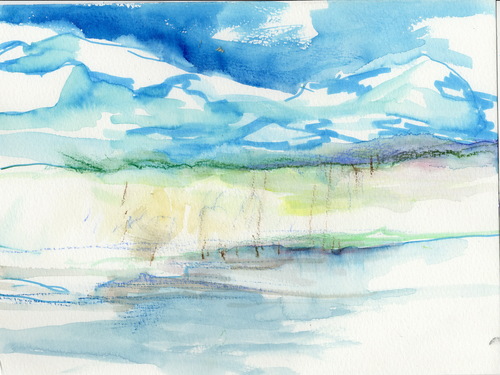 Wrangell St. Elias National park is our largest National Park, It is accessible only by water. This is a view of Hubbard Glacier.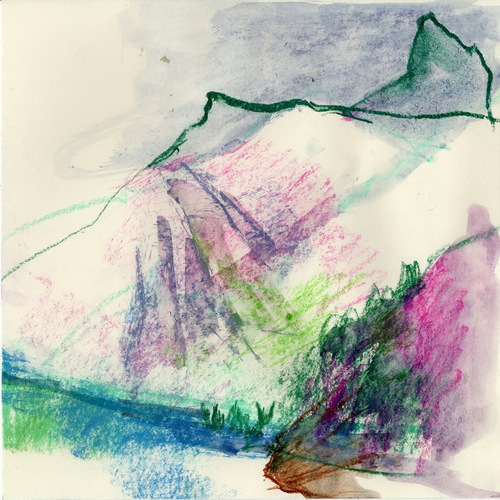 Tracy Arm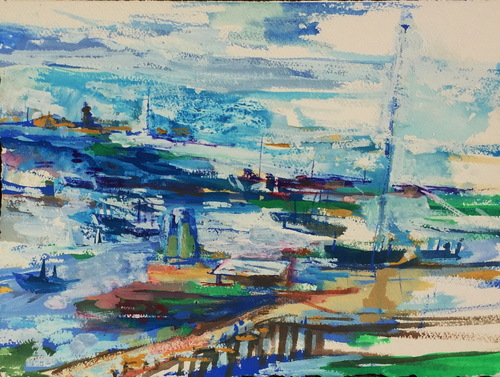 Homer Spit, gouache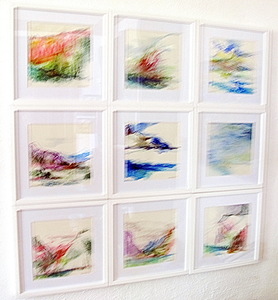 This wall of Alaska Sketches are hung "quilt" style. These quick sketches of Tracy Arm and Wrangle St. Elias capture light, scale and a sense of place. They can be hung singly or in any combination. $160 each framed 14 x 14. Shipping is included.
---
Go Paint, 2019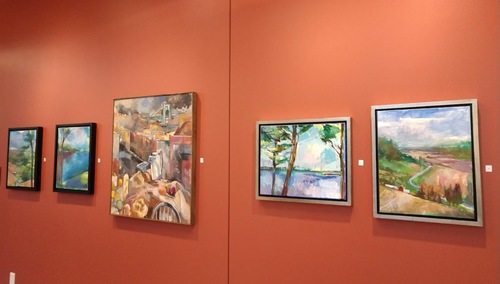 Above: The display of my work at the Pablo Center, Eau Claire, Wisconsin

I was honored to be the judge at this year's "Go Paint!" After a difficult week of working through rain and cold, about 145 paintings were completed and turned in for the exhibition. I was pleased to see the artists useing a variety of approaches to working outside, not just the ordinary attempts at impressionism. It was hard to choose which to honor.

I want to emphasize that painting is not a competitive sport, and that plein air painting is not exempt from the considerations of all painting. It has the added responsibility to be spontaneous but not slick and to capture a sense of place and light. The priorities in my work are color, composition, and a kind of empathy for the motif, and my selections are based on that aesthetic.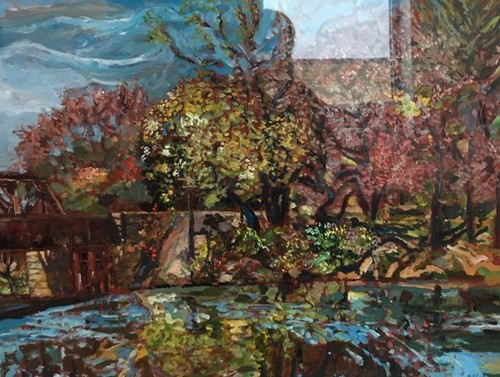 Anders Schafer, Fall Creek, Honorable Mention
This large, intrically worked and complex painting combines many levels of thinking and seeing. Brush strokes coalese into larger masses which again break up and recombine into more shapes.It is a beautiful example of complex surface and shallow controlled depth.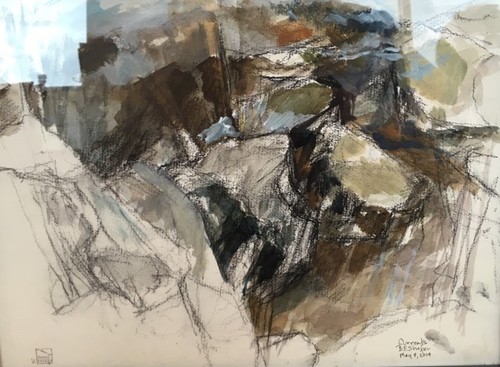 Barbara Schafer, Currents, Honorable Mention
This painting/drawing is a study of planes in rocks and water. The charcoal defines edges and sets up movements, while the warm and cool watercolor tones knot in the center to create solidity and depth. The bare parts are carefully considered and lend scale to the drawing.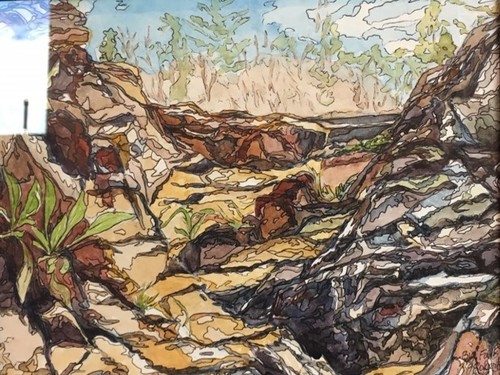 Janice Roberts, Cells of Big Falls, Honorable Mention
This study of rocks and water uses styalized planes to create movement and depth. The green plant at the right edge plays against the green plant in the middle and the green trees in the back to create a counter movement and establish depth.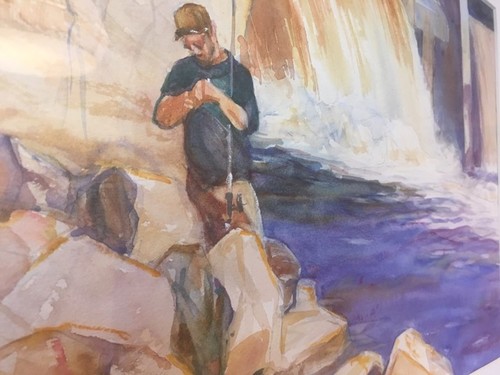 Tim Syring, Altoona Dam Fishing, Honorable Mention
This painting uses only burnt sienna and ultramarine. The rocks are loosly outlined and then made solid with warm and cool tones. The standing man lends both stability and scale.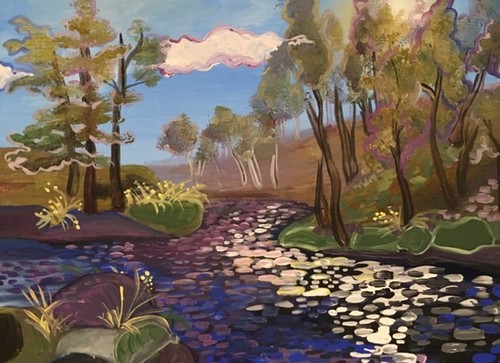 Dalan Hartmann, Water Logged, Honorable Mention
This imaginative painting is done from mind rather than nature. The artist has used what is there, but seen it through his own lens. The shapes in the water are especially intriging.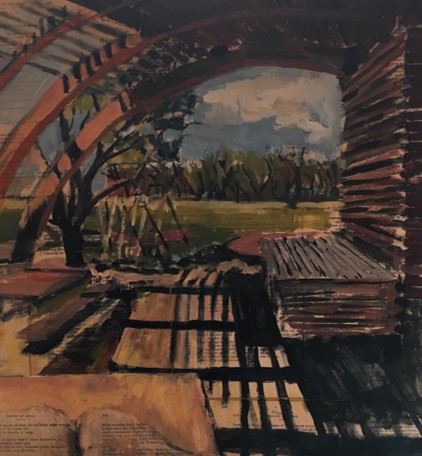 Joseph Maurer, Forest Hills Community Garden @Leaves of Grass, Honorable Mention
This painting is made over collaged pages from Whitman's poem. I think the collage elements work here compositionally as they lead in and repeat the geometry of the structure. Conceptually, I would like the poem and the image aligned.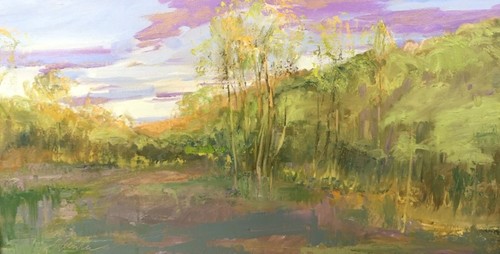 Jean Accola, Big Coulee Spring, Honorable Mention
This is nicely and spontaneously painted, just what a plein air study should be. The blues shade into purple, purple light in the sky, purple dark in the water. The light yellow green is the perfect foil for the purples.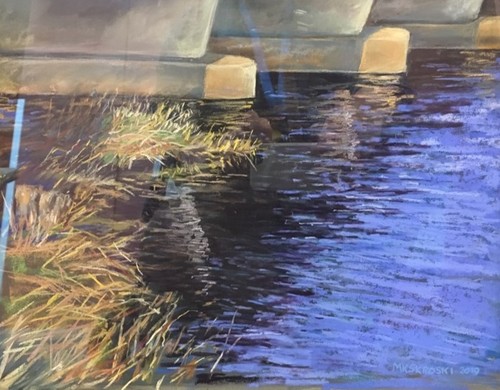 Maureen Skroski, Water Under the Bridge, Honorable Mention
This is a pastel with limited palette. There is nice variety in the strokes in the water. The simplicity of the bridge pilings, done in warm and cool planes, stabalize the composition and keep it from being fussy.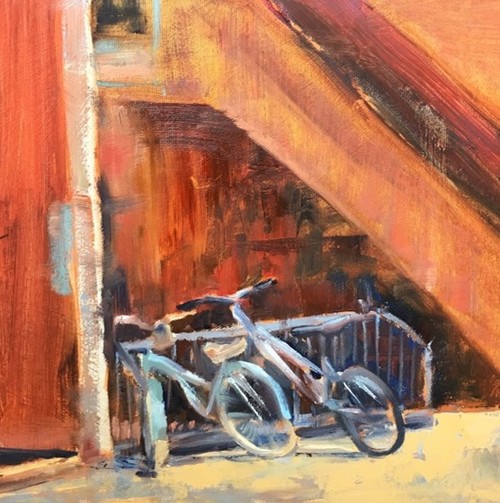 Jean Accola, Grand Ave. Bikes, HonorableMention
Diagonals are what make this painting work. The light diagonal at the bottom leads in, the diagonals on the right lead up and the pole on the left, vertical, but not quite, complete the space.The just indicated stairway makes a space for the bikes to occupy, and the bikes are painted just enough to be believable.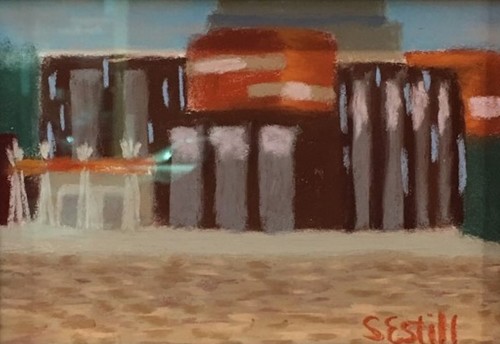 Susan Estill, Pablo Center at Twilight, Best of Pablo Center at the Confluence
This tiny painting is just postcard size. The river at the front and the center itself are just shapes. The color of the river, keyed to the color of the building is startling.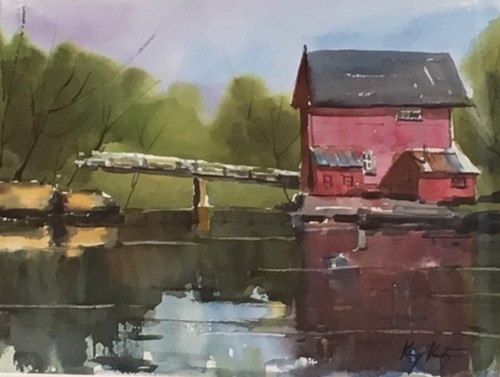 Keary Kautze, Dells Mill, Best Dam Painting, sponsored by Excel Energy
This transparent watercolor is traditional, but requires another look. The wash of the sky and the edge of green trees, are repeated strongly in the water. The lights and darks are very well handled. The Three lights, the orange on the left, the blue water and the red barn play well against the shape made by the trees and their reflections. The barn is at once, both dark and light, and with its reflection makes a strong rectangle that holds the composition. The balance of stronger red against muted green is lovely.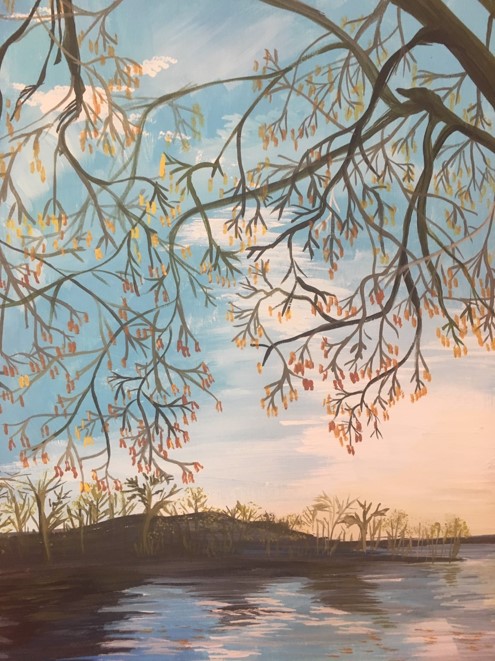 Darlan Hartmann, Future, Best River
This small painting has great scale. The foreground tree plays against the backfround trees and a great deal of distance is created with simple means.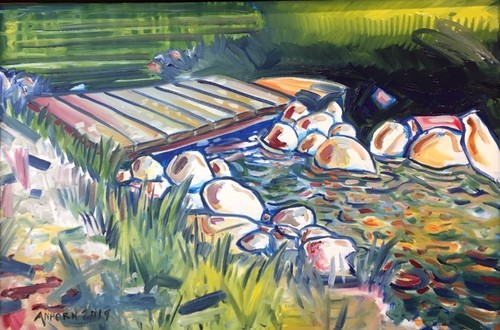 Jason Anhorn, Little Footbridge at Rod and Gun Club, Third Prize
The blue line in this painting is intriguing. It is bold and dareing, almost goes too far, but stops at just the right point. It is helped by having areas that are not line, and by areas which are solid blue.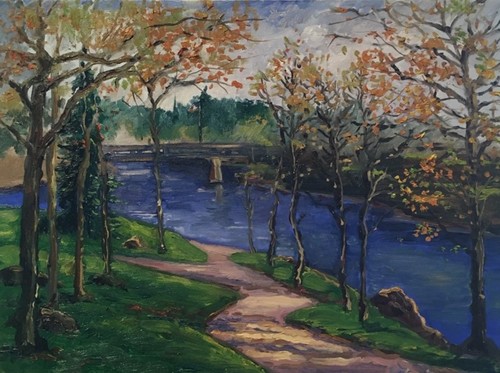 Wendy Schaefer-Miles, Spring River Vista, Second Prize
The intriguing path leads into the painting, we get back to the bridge, the trees make a screen that bring us back around. Eye movements are well handled here. There are many different brush strokes, they command attention to the surface. It feels almost like a weaving, the trees are the warp, the blues and green the weft and the orange leaves, little embroideries.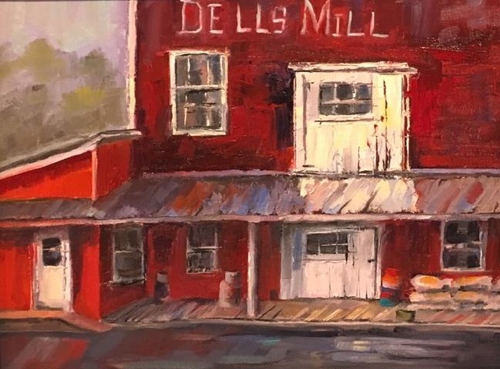 Susan Klem, Dells Mill Minus a Few Items, First Place
This small canvas is filled by a big red shape: the mill which she has been bold enough to crop.
It is simple and direct and as the title indicates things have been left out.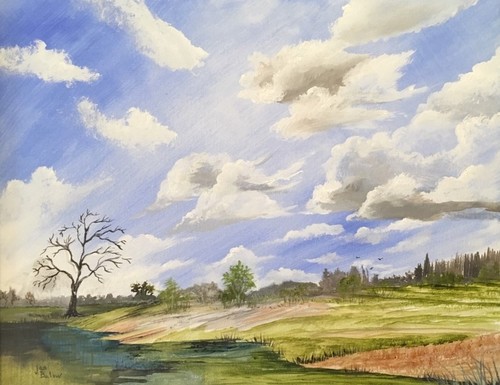 Jan Balow, Storm Coming, Best of Show
I like everything about this painting. The proportion of river and land to the sky. The drama of the one tree. the many varied strokes of color in the river and bank, and especially the clouds. The movements in this painting are clear. The river diagonal takes us in, the slightly angled tree pushes us up, and the dramatic clouds bring us out, and cover the land.






---
Antartica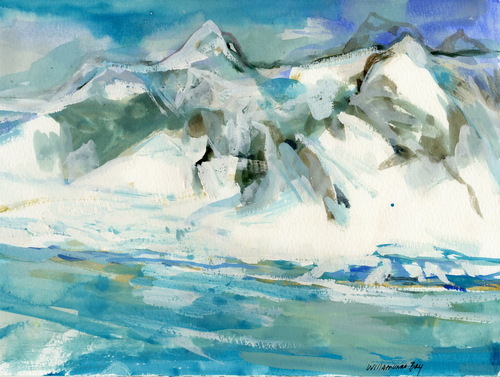 Last winter my sisters, sister-in-law, and I, took a trip to Antartica. It was summer there, so although it was cold, it was not as cold as it was in Chicago. Before going, I read a number of books on Antartica, including Antarctica: An Intimate Portrait of a Mysterious Continent by Gabrielle Walker, and accounts of the early explorers: One was Endurance, the harrowing tale of British explorer Ernest Shackleton's 1914 attempt to reach the South Pole.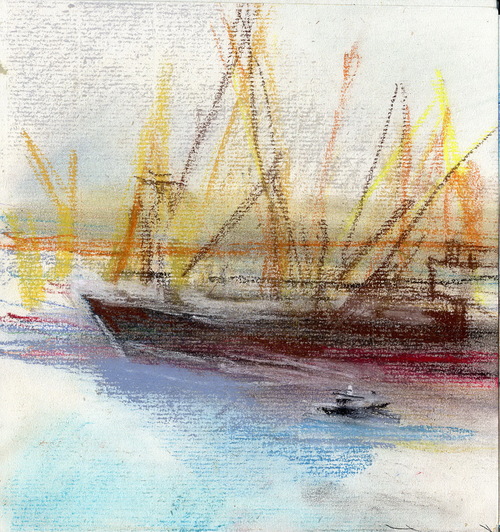 Harbor, Montevideo

Our trip started in Buenos Aires and headed south. We stopped in Montevideo in Uraguay, then saw penguins at Puerto Madryn in Argentina and in The Falkland Islands. Many birds followed the ship, including the albatrose of Ancient Mariner fame. Argentina has long claimed the islands which they call Las Malvinas. In 1982, a war was fought over the islands after Argentina invaded and occupied. (https://www.britannica.com/event/Falkland-Islands-War) The British retook the islands after 10 weeks. The capital, Stanley, is very British, with lawns, flowers and tea rooms. The country side is desolate and the primary product is sheep.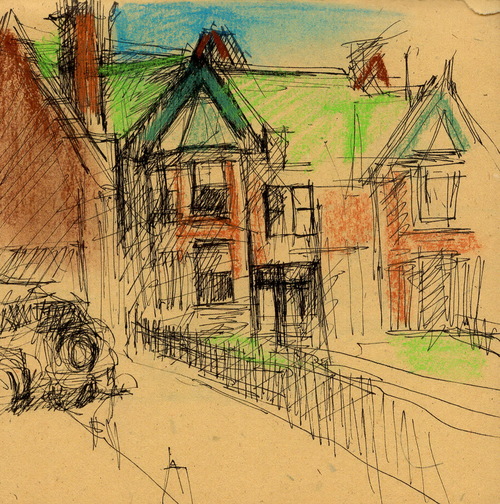 Stanley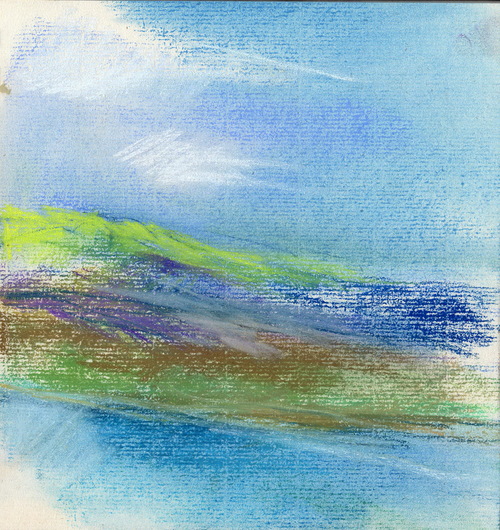 The Falklands

Then to Antartica, and we were very fortunate. It was the best (warmest and most clear) weather seen in some time. For four days we cruised the Bransfield and Gerlache Straights, and into Paradise Bay, off of the Antarctic peninsula. I made many drawings and gouache sketches. Some of these will be available at my 2019 Open Studio, October 26 and 27.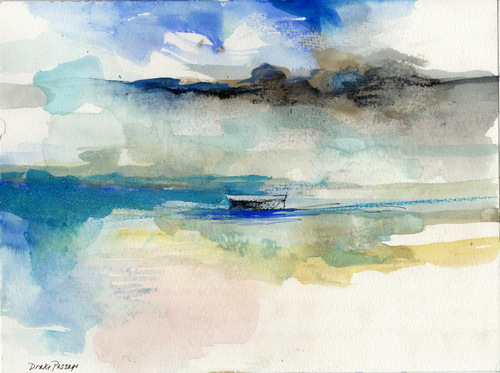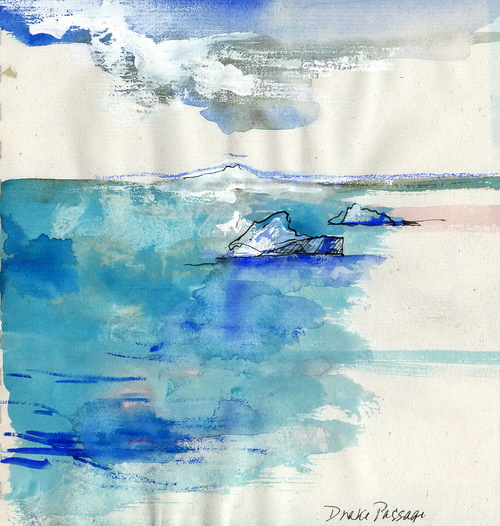 We were very excited when we saw our first iceberg, and then they kept getting bigger and bigger. I understand that a piece more than 71 sq. miles has recently broken off the Larsen iceshelf.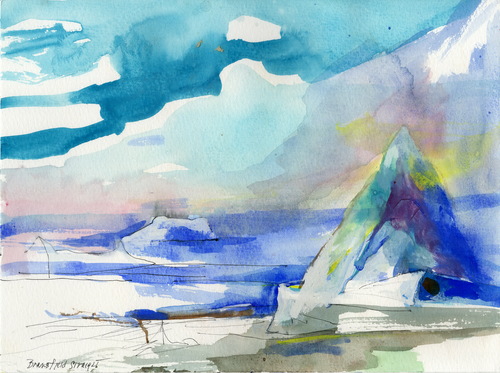 The sun didn't set for long. Reflections of sunrise and sunset could be seen simultanously. In the sunlight the ice is sparkly and the shadows are flourescent. The colors are stark, black, turquoise, and every shade of white. The ice and the sky intensify each other.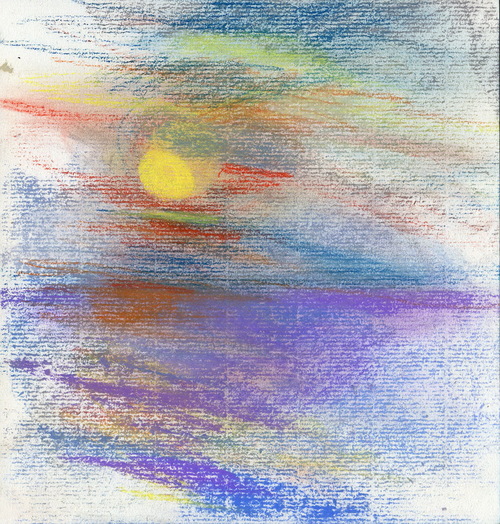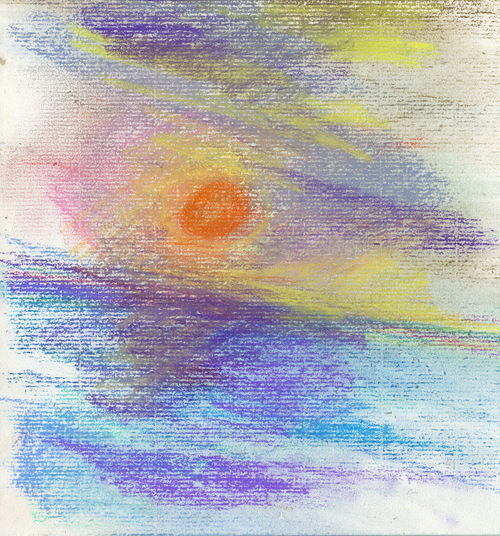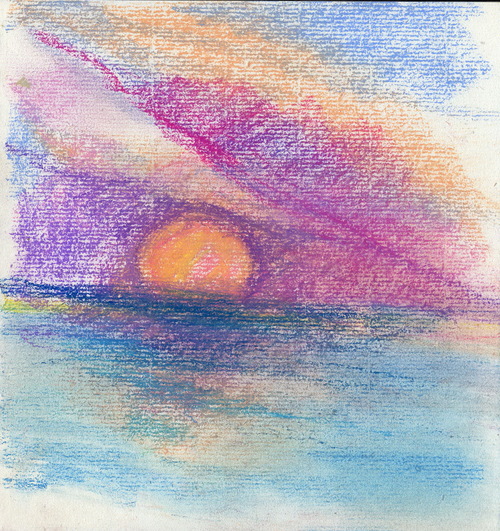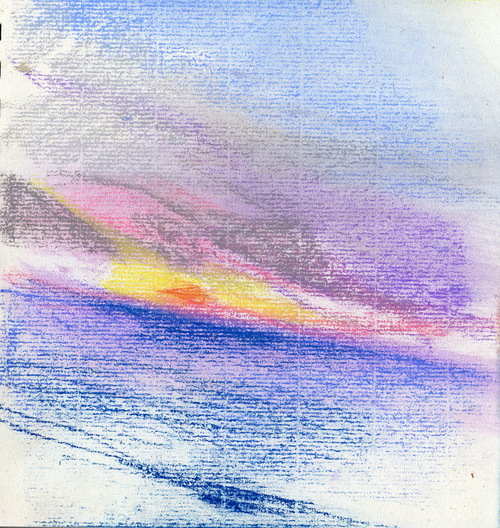 Antartica is a dessert and there isn't much snow fall. It never melts, so the accumulation is imense, and it keeps blowing around. The southern polar winds are extremely strong. There isn't anything in the way to impede them.The cracks in the glaciers are bright coeruleun. There are no trees, no houses, nothing to measure by, no human scale. The scale is too big to comprehend; distance and size impossible to guess.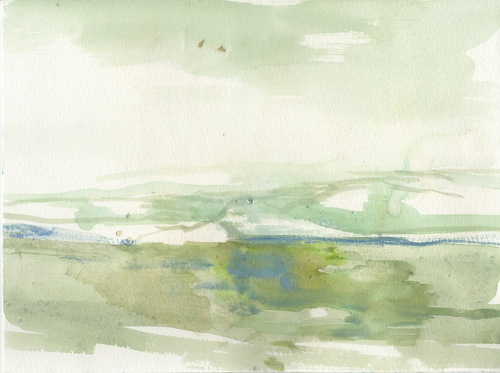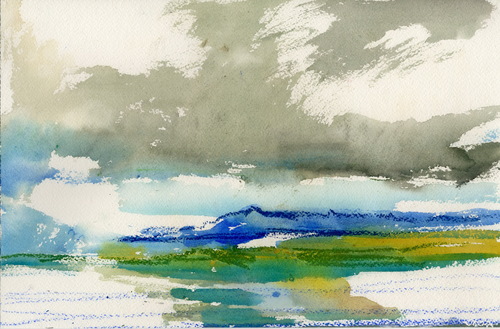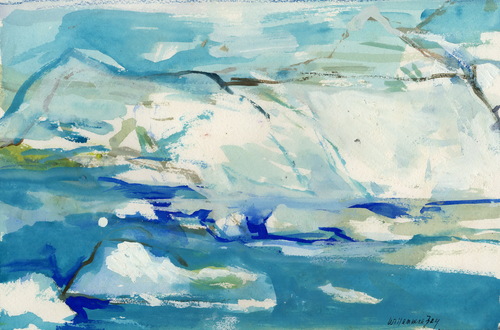 The Antartic treaty (https://www.ats.aq/e/ats.htm) signed in 1959, provides that Antartica be used for only peaceful purposes, that it will not be colonized, and that scientific observations and results from Antarctica shall be exchanged and made freely available. Antartica is the only continent with no indiginous population.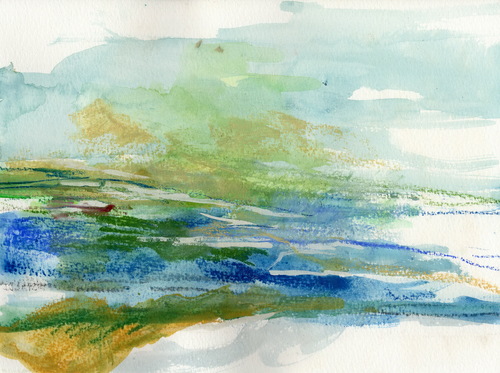 Chilean Research Station

There is important international research on ice cores. Ice core records allow continuous reconstructions of past climate, going back at least 800,000 years. Bubbles in the ice core preserve actual samples of the world's ancient atmosphere. By looking at past concentrations of greenhouse gasses in layers in ice cores, scientists can calculate how modern amounts of carbon dioxide and methane compare to those of the past, and compare past concentrations of greenhouse gasses to temperature. (https://climate.nasa.gov/news/2616/core-questions-an-introduction-to-ice-cores/)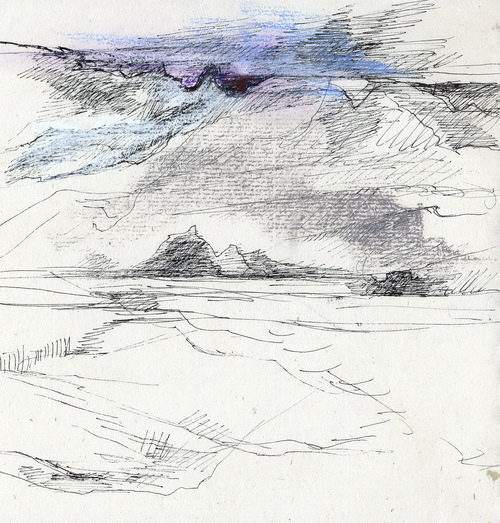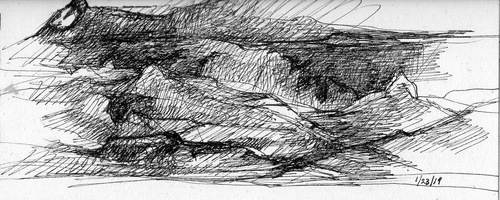 Cape Horn

Cape Horn was a very dangerous place for sailing ships. Where the Atlantic and Pacific meet, the two oceans are at different levels, so the resulting waterfall, the polar storms, and the ice and snow made a perilous trip. On the decks of a comfortable cruise ship, it is nothing to worry about, but we did have some rough seas and some snow.

We stopped in Ushuaia, Argentina, then through the straights of Magellan to Punta Arenas, Chile. We took a trip on a small boat through the Beagle Channel and saw spectacular rookeries.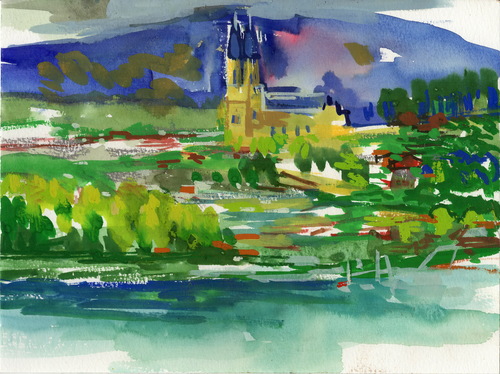 Castro, Isla Chiloe, Chile.

We stopped in several more Chilean ports before disembarking nesr Valparaiso. Valparaíso is a UNESCO World Heritage site. Ships returning from the California Gold Rush brought Oregon Red Wood to Valparaiso where it was crafted into ornate Victorian Architecture. After the transcontinental railroad was built, there was no more reason to travel around the horn, and Valparaiso was left largly undisturbed.

The trip was truly beautiful. I saw "in the land of ice and snow" sights that I could only have imagined, and I saw them from the deck of a ship. A perfect trip!


---
Photos from Open Studio 2018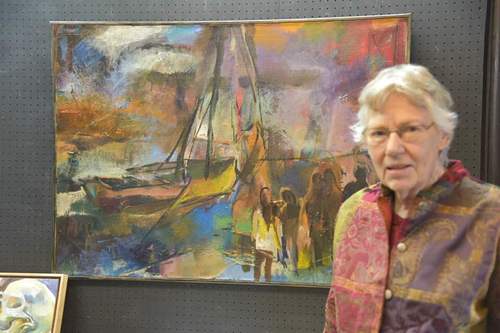 We had quite a day on Saturday, with snow, 50 mph plus winds, a tree down in front of the house, and a live wire crackling in the road. After that, the power was off until late that night. Thanks to all good sports who came anyway; it was fun looking at paintings with cell phone flashlights. We got hot coffee from Ed's house in another part of town and carried on. Sunday was beautiful, and we had both lights and heat!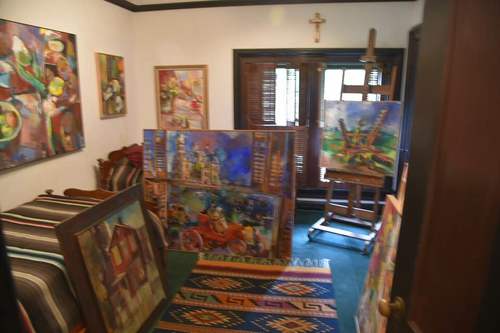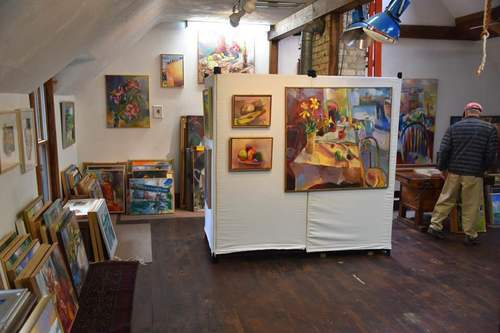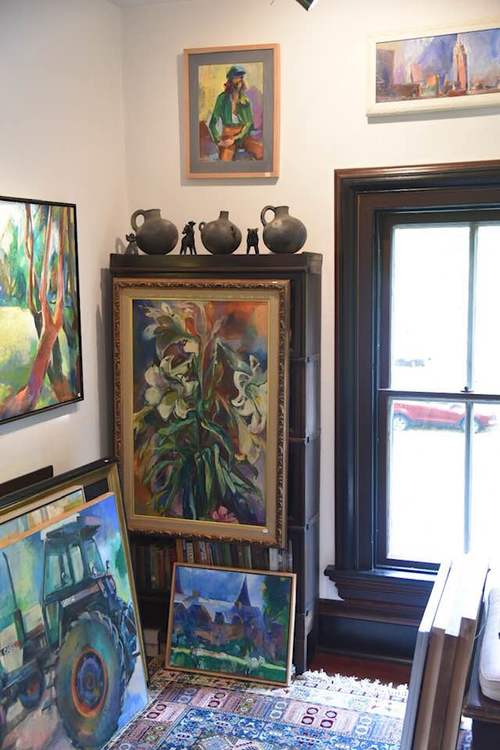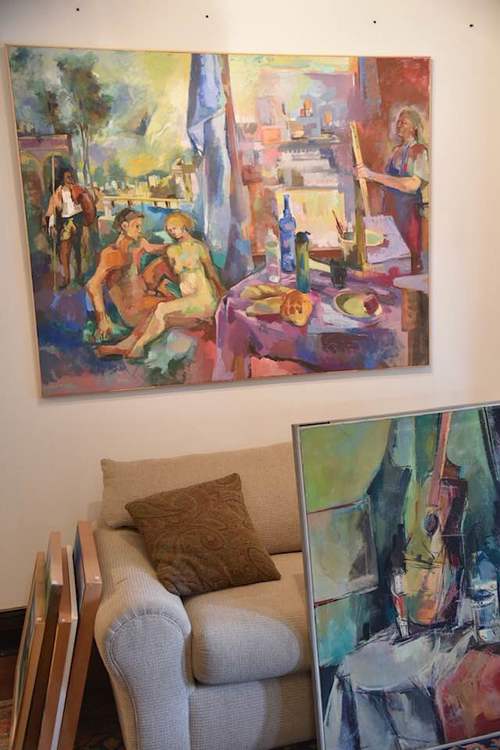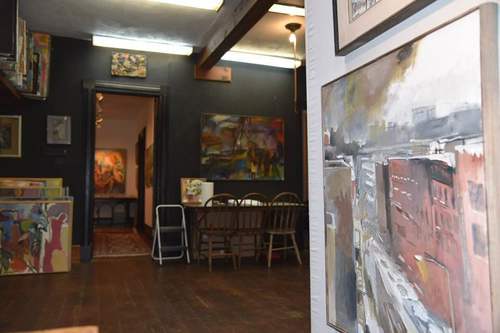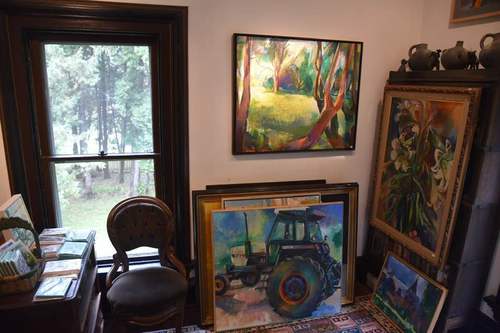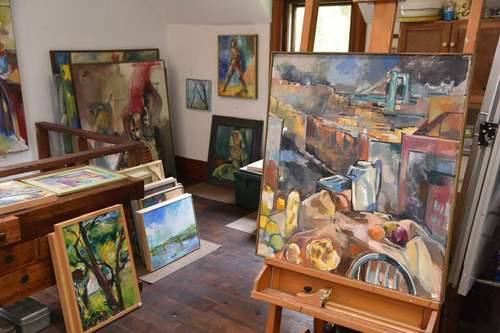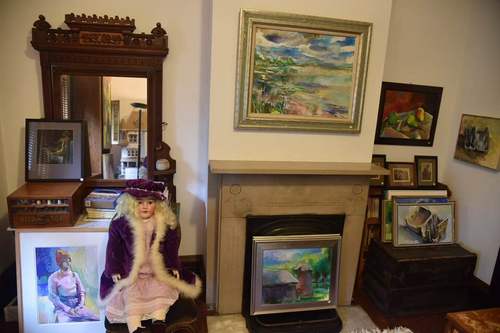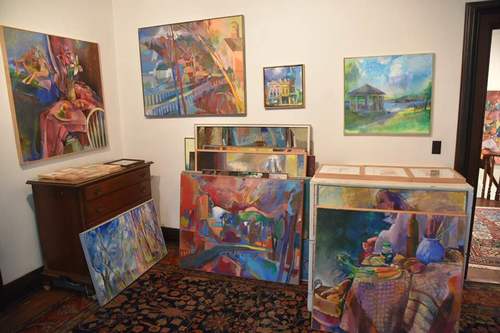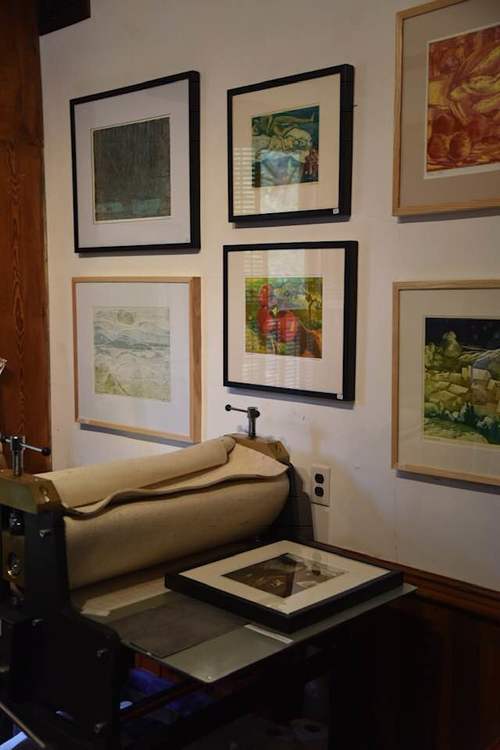 and my new etching press!